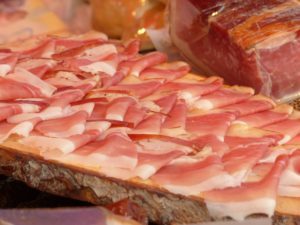 The Orvieto cuisine is based on ancient recipes, it is simple and healthy and all the typical dishes are cooked with fresh and genuine products coming from the farms and the surrounding lands. The Umbrian cuisine and therefore also that of Orvieto has as its undisputed protagonists the black truffle of Norcia (white truffle from Val Tiberina), fresh homemade pasta, meat (sheep, pork and game), wine (Orvieto wine) is considered among the best of Umbria and Italy) and cheeses.
All our dishes are born from the skilful combination of local ingredients strictly respecting the enogastronomic tradition of Orvieto. Among the elements at the base of our kitchen, which you can taste "Al Caminetto", a prominent place occupies the pork meat and in particular the products obtained with skilled norcine processes: hams, sausages, sausages, pork and mazzafegate.
And then again, dishes based on poultry, rabbit and game. But also cheeses and pasta dishes where you can rediscover our distinctly "homely" vocation. Among the most typical dishes in this sense we remember the "umbrichelli" with truffle or all'arrabbiata (a type of pasta made with water and flour), gnocchi and "tagliatelle al ragù".